Meeting Agendas: Templates for Purpose and Productivity
---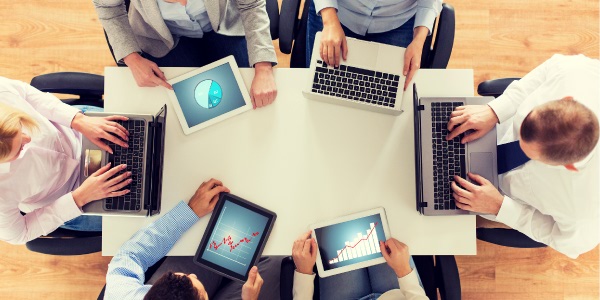 Question: What's the difference between a meeting that just takes up time and a meeting that makes good use of time? Answer: An actionable agenda that is simultaneously relevant, realistic, organized and tangible. Actionable agendas don't just "happen" - you have to make them happen - using strategic thinking, proactive planning and consistent standards. Read on to learn how it's done.
Getting Started: A Template for Productivity
Labels aside, what makes a meeting "productive"? To be called productive, a meeting must be necessary, it must serve a purpose, it must deliver a result, and it must be an effective use of everyone's time.
On the flip side, what makes a meeting less than productive? Non productive meetings are generally those that either fail to produce a meaningful result, or take more time than should be necessary considering the results produced. Further, non-productive meetings are often characterized by conflict, confusion, lack of preparation, and a lack of participant engagement.
In other words, non productive meetings are something to avoid. As can be expected, the best way to ensure "actionable agendas" and productive meetings is to employ a standardized process for meeting planning and agenda development – one that breaks the effort down into "building blocks" that can be readily adapted and applied. In short, this process boils down to the following steps:
#1 Set appropriate goals for meeting planning and related results. #2 Identify meeting requirements by defining meeting scope and purpose. #3 Translate identified requirements into actionable agenda items. #4 Organize agenda items into an executable, time-bound meeting structure.
---
---
What Makes An Agenda Actionable?
Before that question can be answered, you must step back and ask "what is a meeting agenda"? At the broadest level, meeting agendas are roadmaps for how meetings will be conducted. Agendas establish the topics to be covered and issues to be addressed, organized into a logical sequence, suited for discussion and/or presentation, and carried out in a set period of time.
So what makes an agenda actionable? To be considered truly actionable (capable of achieving pre-planned objectives with minimal overhead burdens), meeting agendas must be purpose driven, reality based and results oriented, as defined by the following four (4) characteristics:
#1 Relevant: The agenda must be sufficiently relevant to and aligned with the established meeting purpose For example, if the purpose of the meeting is to make one or more decisions, the agenda must be crafted to ensure that all required information is conveyed and that appropriate discussion can take place.
#2 Realistic: The agenda must be achievable, considering the meeting purpose, time available, participants and overall project status. For example, it is neither productive or actionable to plan a 3 hour agenda when only 1 hour is available.
#3 Organized: The agenda must be properly organized to meet designated objectives, present required information, and conduct related discussions in a logical, orderly fashion - one that makes sense and provides clarity. Agendas must also be properly structured considering the time available for the meeting and the time required to realize desired meeting goals.
#4 Tangible: The meeting agenda must be produced in a tangible, useable format, for distribution to all participants in advance of the scheduled meeting date.
---
Learn to Fast Track
When it comes to managing, you need more than one approach to be consistently successful. The way you manage when surrounding conditions are good, is not the way you manage when time is running short, resources are stretched thin and people aren't working together. That's what fast tracking is for - and we can teach you how it's done. Learn More
---
Creating the Actionable Agenda
As meeting agendas are planned, (4) simple questions must be addressed:
Does this agenda suit the meeting purpose?
Does the agenda make sense and is it do-able?
Is the agenda properly organized (considering purpose and constraints)?
Is the agenda properly documented, detailed and ready for distribution?
If these questions can be answered in the affirmative, you have the makings of an actionable agenda, ready for a productive meeting.
---
THE PROJECT COMMITTEE TOOLKIT.
If you're looking for a fast, easy way to achieve steering committee success, you'll find it inside the Project Committee Toolkit. This unique, informative online course gives you everything you need to become a committee leader and management expert. Here's what you'll learn:
The Project Committee Toolkit is an easy, engaging online course, containing over 50+ education components, teaching you how to use the multi-stage 'Committee Concept Process' to organize and lead all types of project committees - steering, task force, advisory and more.

Topics covered include developing the committee mission, organizing the committee structure, planning operational procedures, managing meetings, motions and decision making, evaluating committee performance, and more.

Techniques covered include 'Define, Align and Approve', 'Action Word Mapping', SMART Guidelines, member selection, committee onboarding, and more.

Download the tools and templates to produce committee charters, meeting agendas, meeting minutes, evaluation 'Report Cards', and more.

Build and improve committee management skills, as you learn time-saving techniques to become a more productive committee leader and project professional.
Source: Unless noted otherwise, all content is created by and/or for ITtoolkit.com
---
---
About Us

ITtoolkit.com staff writers have experience working for some of the largest corporations, in various positions including marketing, systems engineering, help desk support, web and application development, and IT management.
ITtoolkit.com is part of Right Track Associates, proprietors and publishers of multiple web sites including ITtoolkit.com, Fast Track Manage, HOA Board List and more. We started ITtoolkit.com in 2001 and have continued to grow our web site portfolio, Toolkit products, and related data services. To learn more, visit us at Right Track Associates.