Customer Service in IT: Strategize, Communicate and Follow Through
---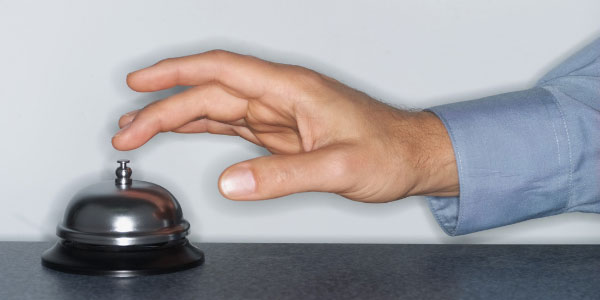 Customer service quality is essential to IT management success. In order to realize the many productivity benefits information technology has to offer, related operations and support services must be relevant, realistic and responsive. This won't happen by chance. In fact, it takes a decisive "customer service orientation" -- fully institutionalized as part of the strategic management vision. Read on to learn how it's done.
What is Customer Service in IT Management?
We begin with an examination of the key question - what constitutes "customer service" in IT management?
It's an approach to IT management that focuses on end-user productivity and satisfaction.
It's a strategy to build credibility and ensure optimal usage of IT products and services.
It's an operational imperative to deliver IT services and operations that are fully aligned with a strategic vision for IT management.
IT departments are created to maximize the value of installed technology, providing a wide range of services to address multiple needs, including technology planning, product selection, installations, technical support and related services. No matter what the composition of an individual service portfolio may be, service success depends upon acceptance and credibility. And acceptance and credibility comes from quality service with a customer (end-user) orientation. This means that services are provided with the end-user in mind, considering business needs and a balance between organizational objectives and individual capabilities.
Obviously, quality service begins with appropriate technical knowledge and expertise. . In order to provide support services and solve technical problems, IT department personnel must have sufficient knowledge of the systems in place, an understanding of the technical principles involved, and the ability to apply that knowledge to deliver the IT service portfolio. But, as complicated at that may sound, this technical expertise is only part of the customer service equation.
There is also a "soft skills" side to "service oriented" IT management. To optimize IT acceptance and credibility, end-users must be made to feel that they "matter" and that the IT department is a professionally run organization, capable of understanding their interests and meeting their needs. Considering the need to consistently balance business interests, IT best practices and end-user demands (which may sometimes be in conflict), this is not always easy. There are many techniques and tactics that come in to play, but none are more important for customer service than communication and follow through.
5 Keys to Customer Service Communication
Communication provides the means by which the IT/end-user partnership is executed and solidified, leading to the desired results of acceptance and credibility. Above all, "service oriented" communication must incorporate the following five (5) characteristics:
Accuracy. Communication must be accurate (the information shared must be valid, verifiable and useable).
Relevance. Communication must be relevant to the need at hand, whether it relates to a support request, problem, project, policy or other business need.
Responsiveness. Communication must be responsive, recognizing the value that "listening" brings to any service encounter or relationship.
Timeliness. Communication must be timely and consistent, ensuring that there are no gaps that would leave the end-user in a state of uncertainty as to what comes next and where things stand.
Professionalism. Communication must always be professional and courteous (whether verbal or written) to reflect properly on the professional capability of the IT organization.
Follow Through Drives Service Credibility
One of the most common factors inhibiting service credibility in IT management is a lack of follow through. To provide "service-oriented" IT, follow through must be institutionalized as a regular part of the IT service encounter. Follow through is realized when the IT department takes the contact initiative to provide status information and seek input. For example, follow through is essential to report the status of service tickets, to seek satisfaction with services provided, to gather more information as may be needed to fulfill service requests, to provide answers to "how-to" questions and to check on the delivery and/or installation of technology products.
To realize customer service success, follow through requirements should be institutionalized in the following manner:
Follow through obligations should be negotiated and established as part of the IT strategic vision.
Follow through obligations should be made part of IT job descriptions and performance reviews.
Follow through obligations should be formalized as part of an established Service Level Agreement.
Follow through obligations should be monitored as part of regularly scheduled service reviews, incorporating "lessons learned" recommendations for service improvement planning.
Follow through experiences and collective wisdom should be recorded as part of the IT "body of knowledge".
As an example, follow through guidelines should set requirements for the timing of service request "acknowledgments" (confirming receipt of a request within a specific period of time after submission) and status updates (regularly scheduled depending on the expected length of time before resolution). Uncertainty opens the door to conflict and confusion. Information gaps will always be filled - the question is how? Appropriate follow through ensures that IT staff remain in control of the "service narrative", minimizing negative perceptions and promoting customer service quality.
---
THE IT SERVICE STRATEGY TOOLKIT
If you're looking for a fast, easy way to achieve IT service success, you'll find it inside the IT Service Strategy Toolkit. This unique, informative online course gives you everything you need to become an IT management leader and service planning expert. Here's what you'll learn:
The I.T. Service Strategy Toolkit is an easy, engaging online course, containing over 50+ education components, teaching you how to use the multi-stage 'Service Strategy Process' to organize the I.T. service function and deliver value-added I.T. services.

Topics covered include developing the IT mission, organizing the IT service department, planning IT management policies, managing the IT/end-user service relationship, performing the IT service review, and more.

Techniques covered include 'Define, Align and Approve', the 'Manage by Process Framework', the IT/End User Partnership, Proactive Problem Management and more.

Download the tools and templates to produce the I.T. Vision Statement and multiple Service Review deliverables.

Build and improve strategic planning skills, as you learn time-saving techniques to become a more productive IT manager or service professional.

Course enrollment provides lifetime access to all components, with all future updates and additions included.
Source: Unless noted otherwise, all content is created by and/or for ITtoolkit.com
---
---
About Us

ITtoolkit.com staff writers have experience working for some of the largest corporations, in various positions including marketing, systems engineering, help desk support, web and application development, and IT management.
ITtoolkit.com is part of Right Track Associates, proprietors and publishers of multiple web sites including ITtoolkit.com, Fast Track Manage, HOA Board List and more. We started ITtoolkit.com in 2001 and have continued to grow our web site portfolio, Toolkit products, and related data services. To learn more, visit us at Right Track Associates.